This recipe was clipped from a newspaper, date is unknown but likely 1960's (and the recipe was made for over 40 years by the reader who sent it in). Very basic recipe that looks like quite a treat! Recipe typed out below along with a scanned copy.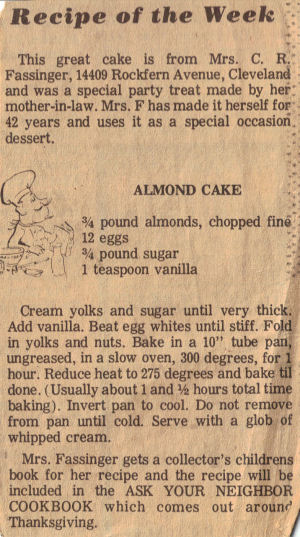 Recipe of the Week
ALMOND CAKE
3/4 pound almonds, chopped fine
12 eggs
3/4 pound sugar
1 teaspoon vanilla
Cream yolks and sugar until very thick. Add vanilla. Beat egg whites until stiff. Fold in yolks and nuts. Bake in a 10″ tube pan, ungreased, in a slow oven, 300 degrees, for 1 hour. Reduce heat to 275 degrees and bake til done. (Usually about 1 and 1/2 hours total time baking). Invert pan to cool. Do not remove from pan until cold. Serve with a glob of whipped cream.
More Recipes For You To Enjoy: