This promo recipe for C&H brown sugar was clipped from a magazine and found in a large collection, publish date is 1989. I've typed it below along with a scanned copy.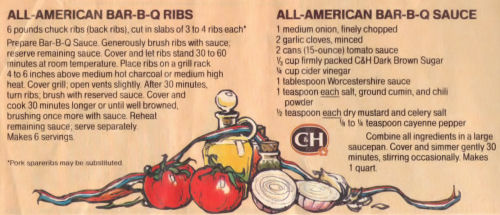 ALL-AMERICAN BAR-B-Q RIBS
6 pounds chuck ribs (back ribs), cut in slabs of 3 to 4 ribs each*
Prepare Bar-B-Q Sauce. Generously brush ribs with sauce; reserve remaining sauce. Cover and let ribs stand 30 to 60 minutes at room temperature. Place ribs on a grill rack 4 to 6 inches above medium hot charcoal or medium high heat. Cover grill; open vents slightly. After 30 minutes, turn ribs; brush with reserved sauce. Cover and cook 30 minutes longer or until well browned, brushing once more with sauce. Reheat remaining sauce; serve separately.
Makes 6 servings.
*Pork spareribs may be substituted
ALL-AMERICAN BAR-B-Q SAUCE
1 medium onion, finely chopped
2 garlic cloves, minced
2 cans (15-ounce) tomato sauce
1/3 cup firmly packed C&H Dark Brown Sugar
1/4 cup cider vinegar
1 tablespoon Worcestershire sauce
1 teaspoon each salt, ground cumin, and chili powder
1/2 teaspoon each dry mustard and celery salt
1/8 to 1/4 teaspoon cayenne pepper
Combine all ingredients in a large saucepan. Cover and simmer gently 30 minutes, stirring occasionally. Makes 1 quart.
More Recipes For You To Enjoy: