This recipe was clipped from a newspaper, date unknown. Recipe is typed below along with a scanned copy.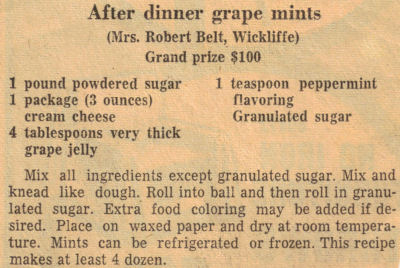 After Dinner Grape Mints
(Mrs. Robert Belt, Wickliffe)
Grand prize $100
1 pound powdered sugar
1 package (3 ounces) cream cheese
4 tablespoons very thick grape jelly
1 teaspoon peppermint flavoring
Granulated sugar
Mix all ingredients except granulated sugar. Mix and knead like dough. Roll into ball and then roll in granulated sugar. Extra food coloring may be added if desired. Place on waxed paper and dry at room temperature. Mints can be refrigerated or frozen. This recipe makes at least 4 dozen.
More Recipes For You To Enjoy: