This handwritten recipe was found in a large collection, date unknown. Recipe is typed below along with a scanned copy of both front and back.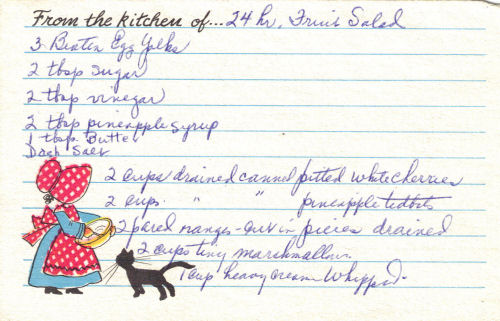 24 Hr. Fruit Salad
3 beaten egg yolks
2 tbsp sugar
2 tbsp vinegar
2 tbsp pineapple syrup
1 tbsp butter
dash salt
2 cups drained canned pitted white cherries
2 cups " " pineapple tidbits
2 pared oranges – cut in pieces drained
2 cups tiny marshmallows
1 cup heavy cream whipped
Combine egg yolks, sugar, vinegar, pineapple syrup, butter and salt in top of double boiler. Cook over hot water, not boiling, till thick stirring constantly. Cool.
Stir in fruit & marshmallows.
Fold in whipped cream.
Spoon into bowl.
Chill 24 hrs in refrigerator – to blend.
Trim with maraschino cherries, grapes, orange sections.
Makes 6 to 8 servings.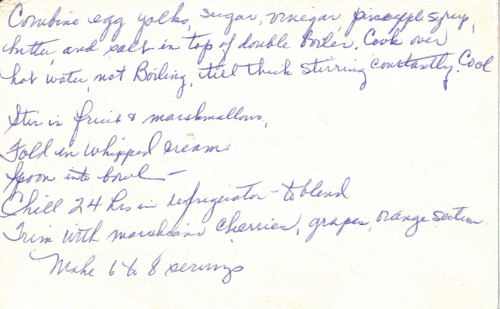 More Recipes For You To Enjoy: