This recipe was written on a lined index card and found in a large collection, date unknown. I've typed it below along with a scanned copy.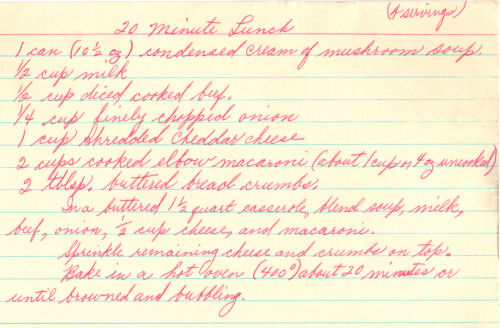 20 Minute Lunch
(4 servings)
1 can (10 1/2 oz) condensed cream of mushroom soup
1/2 cup milk
1/2 cup diced cooked beef
1/4 cup finely chopped onion
1 cup shredded cheddar cheese
2 cups cooked elbow macaroni (about 1 cup or 4 oz. uncooked)
2 tblsp. buttered bread crumbs.
In a buttered 1 1/2 quart casserole, blend soup, milk, beef, onion, 1/2 cup cheese, and macaroni.
Sprinkle remaining cheese and crumbs on top.
Bake in a hot oven (400°) about 20 minutes or until browned and bubbling.
More Recipes For You To Enjoy: