This recipe was written on a lined index card and found in a large collection, date unknown. There's a note that says "Real Creamy" in the top left corner and in the top right corner it says "Nancy got from girl at factory". I've typed it below along with a scanned copy (front side only).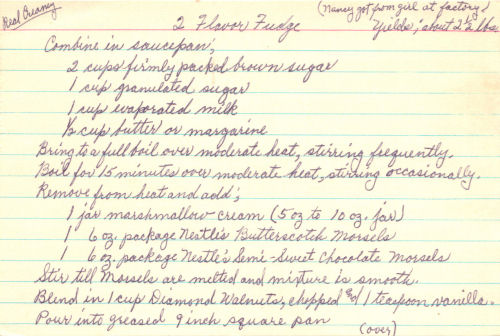 2 Flavor Fudge
Yields: about 2 1/2 lbs
Combine in saucepan:
2 cups firmly packed brown sugar
1 cup granulated sugar
1 cup evaporated milk
1/2 cup butter or margarine
Bring to a full boil over moderate heat, stirring frequently.
Boil for 15 minutes over moderate heat, stirring occasionally.
Remove from heat and add:
1 jar marshmallow cream (5 oz to 10 oz. jar)
1 6 oz. package Nestle's Butterscotch Morsels
1 6 oz. package Nestle's Semi-Sweet Chocolate Morsels
Stir till morsels are melted and mixture is smooth.
Blend in 1 cup Diamond Walnuts, chopped and 1 teaspoon vanilla.
Pour into greased 9 inch square pan.
Chill until firm.
More Recipes For You To Enjoy: