Here's a recipe folder from Good Seasons highlighting their salad dressing mixes and various ways you can use them in recipes. This was found in a large collection, date unknown. All the recipe ideas are typed below along with a scanned copy of the folder.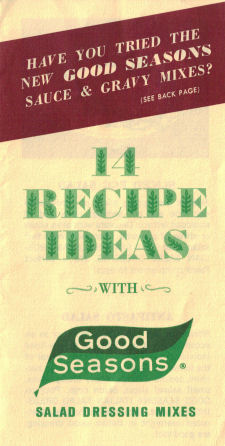 HAVE YOU TRIED THE
NEW GOOD SEASONS
SAUCE & GRAVY MIXES?
14 RECIPE IDEAS
WITH
Good Seasons
SALAD DRESSING MIXES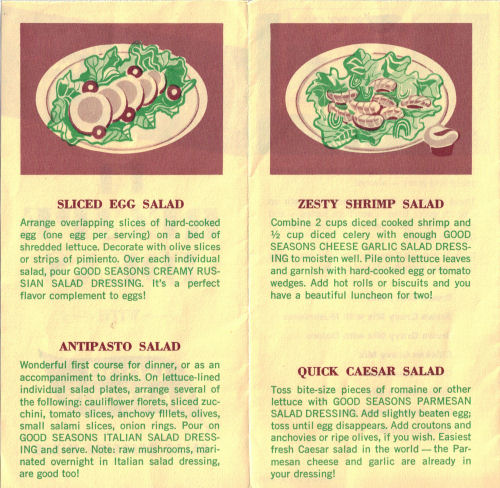 SLICED EGG SALAD
Arrange overlapping slices of hard-cooked egg (one egg per serving) on a bed of shredded lettuce. Decorate with olive slices or strips of pimiento. Over each individual salad, pour GOOD SEASONS CREAMY RUSSIAN SALAD DRESSING. It's a perfect flavor complement to eggs!
ANTIPASTO SALAD
Wonderful first course for dinner, or as an accompaniment to drinks. On lettuce-lined individual salad plates, arrange several of the following: cauliflower florets, sliced zucchini, tomato slices, anchovy fillets, olives, small salami slices, onion rings. Pour on GOOD SEASONS ITALIAN SALAD DRESSING and serve. Note: raw mushrooms, marinated overnight in Italian salad dressing, are good too!
ZESTY SHRIMP SALAD
Combine 2 cups diced cooked shrimp and 1/2 cup diced celery with enough GOOD SEASONS CHEESE GARLIC SALAD DRESSING to moisten well. Pile onto lettuce leaves and garnish with hard-cooked egg or tomato wedges. Add hot rolls or biscuits and you have a beautiful luncheon for two!
QUICK CAESAR SALAD
Toss bite-size pieces of romaine or other lettuce with GOOD SEASONS PARMESAN SALAD DRESSING. Add slightly beaten egg; toss until egg disappears. Add croutons and anchovies or ripe olives, if you wish. Easiest fresh Caesar salad in the world — the Parmesan cheese and garlic are already in your dressing!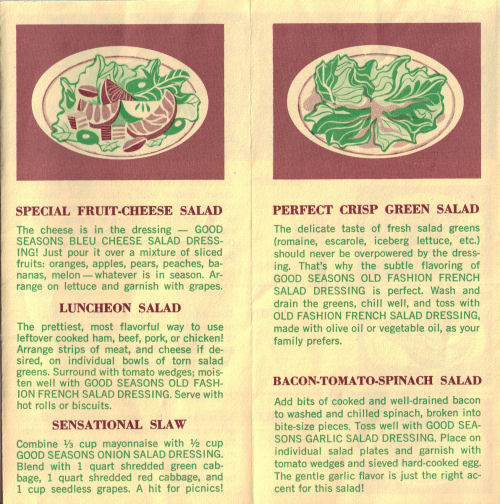 SPECIAL FRUIT-CHEESE SALAD
The cheese is in the dressing — GOOD SEASONS BLEU CHEESE SALAD DRESSING! Just pour it over a mixture of sliced fruits: oranges, apples, pears, peaches, bananas, melon — whatever is in season. Arrange on lettuce and garnish with grapes.
LUNCHEON SALAD
The prettiest, most flavorful way to use leftover cooked ham, beef, pork, or chicken! Arrange strips of meat, and cheese if desired, on individual bowls of torn salad greens. Surround with tomato wedges; moisten well with GOOD SEASONS OLD FASHION FRENCH SALAD DRESSING. Serve with hot rolls or biscuits.
SENSATIONAL SLAW
Combine 1/3 cup mayonnaise with 1/2 cup GOOD SEASONS ONION SALAD DRESSING. Blend with 1 quart shredded green cabbage, 1 quart shredded red cabbage, and 1 cup seedless grapes. A hit for picnics!
PERFECT CRISP GREEN SALAD
The delicate taste of fresh salad greens (romaine, escarole, iceberg lettuce, etc.) should never be overpowered by the dressing. That's why the subtle flavoring of GOOD SEASONS OLD FASHION FRENCH SALAD DRESSING is perfect. Wash and drain the greens, chill well, and toss with OLD FASHION FRENCH SALAD DRESSING, made with olive oil or vegetable oil, as your family prefers.
BACON-TOMATO-SPINACH SALAD
Add bits of cooked and well-drained bacon to washed and chilled spinach, broken into bite-size pieces. Toss well with GOOD SEASONS GARLIC SALAD DRESSING. Place on individual salad plates and garnish with tomato wedges and sieved hard-cooked egg. The gentle garlic flavor is just the right accent for this salad!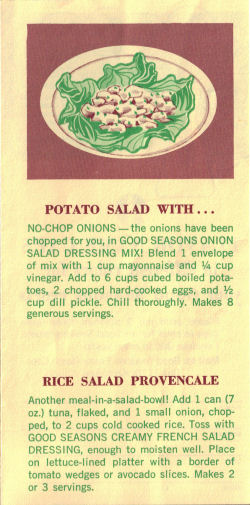 POTATO SALAD WITH…
NO-CHOP ONIONS–the onions have been chopped for you, in GOOD SEASONS ONION SALAD DRESSING MIX! Blend 1 envelope of mix with 1 cup mayonnaise and 1/4 cup vinegar. Add to 6 cups cubed boiled potatoes, 2 chopped hard-cooked eggs, and 1/2 cup dill pickle. Chill thoroughly. Makes 8 generous servings.
RICE SALAD PROVENCALE
Another meal-in-a-salad-bowl! Add 1 can (7 oz.) tuna, flaked, and 1 small onion, chopped, to 2 cups cold cooked rice. Toss with GOOD SEASONS CREAMY FRENCH SALAD DRESSING, enough to moisten well. Place on lettuce-lined platter with a border of tomato wedges or avocado slices. Makes 2 or 3 servings.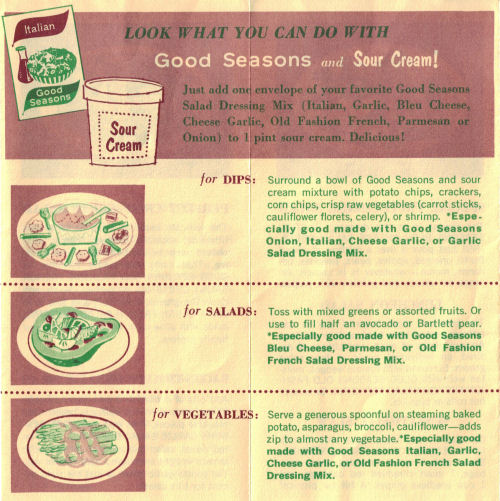 LOOK WHAT YOU CAN DO WITH
Good Seasons and Sour Cream!
Just add one envelope of your favorite Good Seasons Salad Dressing Mix (Italian, Garlic, Bleu Cheese, Cheese Garlic, Old Fashion French, Parmesan or Onion) to 1 pint sour cream. Delicious!
for DIPS: Surround a bowl of Good Seasons and sour cream mixture with potato chips, crackers, corn chips, crisp raw vegetables (carrot sticks, cauliflower florets, celery), or shrimp. *Especially good made with Good Seasons Onion, Italian, Cheese Garlic, or Garlic Salad Dressing Mix.
for SALADS: Toss with mixed greens or assorted fruits. Or use to fill half an avocado or Bartlett pear. *Especially good made with Good Seasons Bleu Cheese, Parmesan, or Old Fashion French Salad Dressing Mix.
for VEGETABLES: Serve a generous spoonful on steaming baked potato, asparagus, broccoli, cauliflower–adds zip to almost any vegetable. *Especially good made with Good Seasons Italian, Garlic, Cheese Garlic, or Old Fashion French Salad Dressing Mix.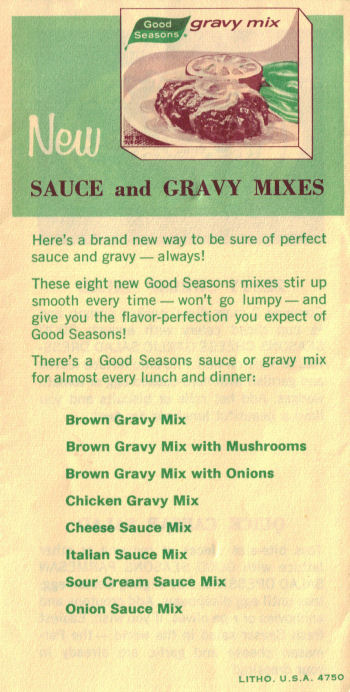 More Recipes For You To Enjoy: