This recipe was clipped from a magazine and found in a large collection, date unknown. Treet is a canned meat (similar to canned Spam). Recipe is typed below along with a scanned copy.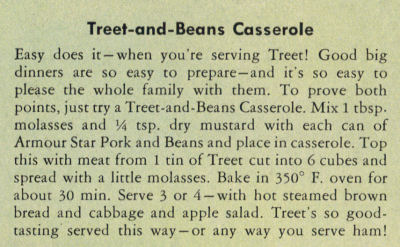 Treet-and-Beans Casserole
Easy does it–when you're serving Treet! Good big dinners are so easy to prepare–and it's so easy to please the whole family with them. To prove both points, just try a Treet-and-Beans Casserole. Mix 1 tbsp. molasses and 1/4 tsp. dry mustard with each can of Armour Star Pork and Beans and place in casserole. Top this with meat from 1 tin of Treet cut into 6 cubes and spread with a little molasses. Bake in 350° F. oven for about 30 min. Serve 3 or 4–with hot steamed brown bread and cabbage and apple salad. Treet's so good-tasting served this way–or any way you serve ham!
More Recipes For You To Enjoy: