This recipe was clipped from a magazine and found in a large collection, date unknown. I've typed it below along with a scanned copy.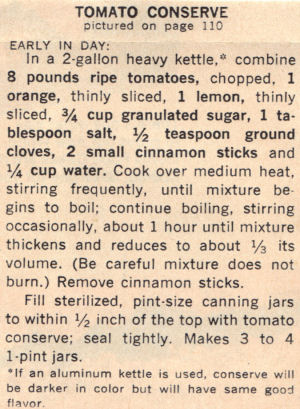 TOMATO CONSERVE
Early in day:
In a 2-gallon heavy kettle,* combine 8 pounds ripe tomatoes, chopped, 1 orange, thinly sliced, 1 lemon, thinly sliced, 3/4 cup granulated sugar, 1 tablespoon salt, 1/2 teaspoon ground cloves, 2 small cinnamon sticks and 1/4 cup water. Cook over medium heat, stirring frequently, until mixture begins to boil; continue boiling, stirring occasionally, about 1 hour until mixture thickens and reduces to about 1/3 its volume. (Be careful mixture does not burn.) Remove cinnamon sticks.
Fill sterilized, pint-size canning jars to within 1/2 inch of the top with tomato conserve; seal tightly. Makes 3 to 4 1-pint jars.
*If an aluminum kettle is used, conserve will be darker in color but will have same good flavor.
Please read the Safe Canning & Food Preservation section if planning on canning this recipe.
More Recipes For You To Enjoy: