This recipe was clipped from a magazine and found in a large collection, date unknown. Recipe is typed below along with a scanned copy.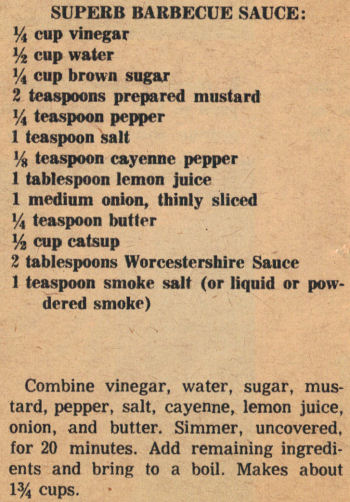 SUPERB BARBECUE SAUCE:
1/4 cup vinegar
1/2 cup water
1/4 cup brown sugar
2 teaspoons prepared mustard
1/4 teaspoon pepper
1 teaspoon salt
1/8 teaspoon cayenne pepper
1 tablespoon lemon juice
1 medium onion, thinly sliced
1/4 teaspoon butter
1/2 cup catsup
2 tablespoons Worcestershire Sauce
1 teaspoon smoke salt (or liquid or powdered smoke)
Combine vinegar, water, sugar, mustard, pepper, salt, cayenne, lemon juice, onion, and butter. Simmer, uncovered, for 20 minutes. Add remaining ingredients and bring to a boil. Makes about 1 3/4 cups.
More Recipes For You To Enjoy: