This recipe was clipped from a newspaper and is stapled to another near identical recipe for Lipton Sun Tea (the directions differ slightly, but recipe is the same), date is unknown. Recipe is typed below along with a scanned copy.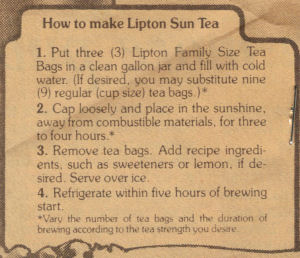 How to make Lipton Sun Tea
Put three (3) Lipton Family Size Tea Bags in a clean gallon jar and fill with cold water. (If desired, you may substitute nine (9) regular (cup size) tea bags.)*
Cap loosely and place in the sunshine, away from combustible materials, for three to four hours.*
Remove tea bags. Add recipe ingredients, such as sweeteners or lemon, if desired. Serve over ice.
Refrigerate within five hours of brewing start.
*Vary the number of tea bags and the duration of brewing according to the tea strength you desire.
More Recipes For You To Enjoy: