This recipe was written on a lined index card and found in a large collection, date unknown. Fastnacht is a donut pastry that is traditionally prepared on Shrove Tuesday as a way to use up all the fat and sugar before Lent and fasting begins. Recipe is typed below along with a scanned copy (of both sides).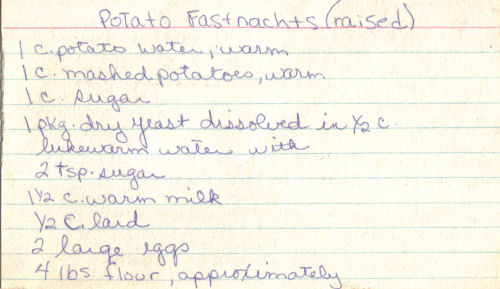 Potato Fastnachts (raised)
1 c. potato water, warm
1 c. mashed potatoes, warm
1 c. sugar
1 pkg. dry yeast dissolved in 1/2 c. lukewarm water with
2 tsp. sugar
1 1/2 c. warm milk
1/2 c. lard
2 large eggs
4 lbs. flour, approximately
Mix sugar and mashed potato; mix in lard, eggs, salt and beat. Add warm potato water and milk. Beat. Add yeast and beat. Add flour slowly until dough is not too sticky, but still moist. Cover dough with cloth and piece of plastic. Let raise until double in size, approximately 3 1/2 – 4 hours.
Grease hands and have bowl of flour nearby, take chunk of dough; fold it and roll out (1/2 inch thick) on floured table gently. Press out circles and take out centers doughnut cutter. Cover and let raise about 90 min.
Heat oil. Drop in doughnuts carefully, turn when edges are brown. Be careful not to puncture doughnut. Lay on brown paper bags to drain.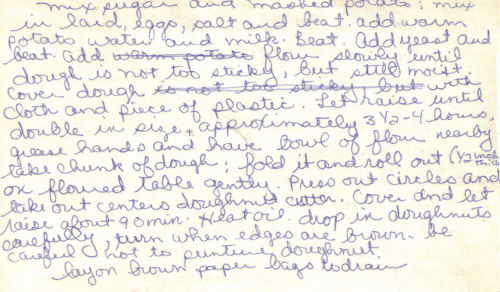 More Recipes For You To Enjoy: