This recipe was clipped from a newspaper, date unknown but I would guess the 1950's or 1960's. Recipe is typed below along with a scanned copy.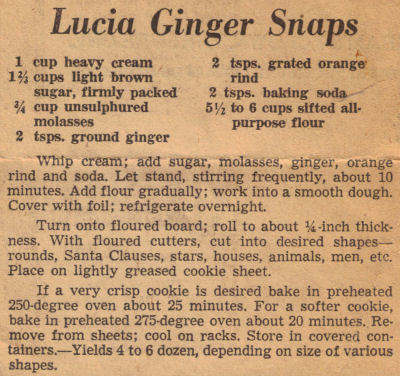 NUMBERED AMONG the Swedish Christmas specialties are these ginger snaps. The dough can be cut in the traditional rounds or any shape you wish.
Lucia Ginger Snaps
1 cup heavy cream
1 2/3 cups light brown sugar, firmly packed
3/4 cup unsulphured molasses
2 tsps. ground ginger
2 tsps. grated orange rind
2 tsps. baking soda
5 1/2 to 6 cups sifted all-purpose flour
Whip cream; add sugar, molasses, ginger, orange rind and soda. Let stand, stirring frequently, about 10 minutes. Add flour gradually; work into a smooth dough. Cover with foil; refrigerate overnight.
Turn onto floured board; roll to about 1/4-inch thickness. With floured cutters, cut into desired shapes–rounds, Santa Clauses, stars, houses, animals, men, etc. Place on lightly greased cookie sheet.
If a very crisp cookie is desired bake in preheated 250-degree oven about 25 minutes. For a softer cookie, bake in preheated 275-degree oven about 20 minutes. Remove from sheets; cool on racks. Store in covered containers.–Yields 4 to 6 dozen, depending on size of various shapes.
More Recipes For You To Enjoy: