Here's a handwritten recipe with step-by-step instructions for making homemade bread. This was found in a large collection of recipes, date unknown. I've typed the recipe out below pretty much as-is but I did separate into more paragraphs for easier reading. I've also scanned both sides of the recipe card and added them below.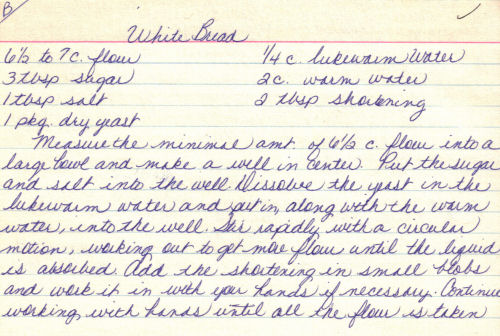 White Bread
6 1/2 to 7 c. flour
3 tbsp sugar
1 tbsp salt
1 pkg. dry yeast
1/4 c. lukewarm water
2 c. warm water
2 tbsp shortening
Measure the minimal amt. of 6 1/2 c. flour into a large bowl and make a well in center. Put the sugar and salt into the well. Dissolve the yeast in the lukewarm water and put in, along with the warm water, into the well. Stir rapidly with a circular motion, working out to get more flour until the liquid is absorbed.
Add the shortening in small blobs and work it in with your hands if necessary. Continue working with hands until all the flour is taken up and the dough comes away from the sides of the bowl.
Turn it out on a floured surface and knead till firm & elastic (about 10 min) using what you need of the remaining flour to dust the surface.
Place the dough in a greased bowl, turn to coat the other side, cover first with waxed paper, then with a cloth. Let rise till double in bulk in a warm place that is free of draft.
Punch down and let rise till almost double.
Divide dough in half and shape into loaves, pierce each loaf about 4 times to puncture any remaining air holes. Place in a warm spot cover with a cloth and let rise until just over double in bulk.
Bake in a preheated oven at 400° for 25 min.
This recipe makes 2 loaves but for a large family you can double it for 4, triple it for 6 or quadruple it for 8. Just remember that the kneading time should be increased to 15 min. for 4 to 6 loaves & 20 minutes for 8.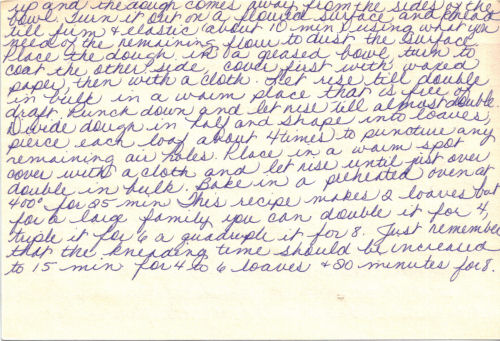 More Recipes For You To Enjoy: