This is a pamphlet from Betty Crocker with details on how to make colored window cookies using the Lifesavers roll candy.
Both sides are filled with information, as well as coupons and a chart detailing the Betty Crocker coupons needed for the Oneida Community Stainless and Silverplate Flatware.
Date on the coupon expires 1973 so this pamphlet is at least 34 years old. The Betty Crocker Coupon is worth 3 coupons.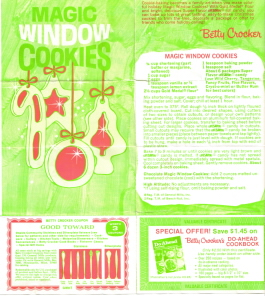 Cookie-baking becomes a family art when you make colorful holiday Magic Window Cookies! With Gold Medal flour and bright, delicious Super Flavor LIFESAVERS roll candy, you can bake up lots of great tasting, easy-to-make Christmas cookies to trim the tree, decorate a package or offer to friends who come holiday-calling!
Betty Crocker
MAGIC WINDOW COOKIES
3/4 cup shortening (part butter or margarine, softened)
1 cup sugar
2 eggs
1 teaspoon vanilla or 1/2 teaspoon lemon extract
2 1/2 cups Gold Medal flour*
1 teaspoon baking powder
1 teaspoon salt
About 6 packages Super Flavor LIFESAVERS candy (use Wild Cherry, Tangerine, Fancy Fruits, Five Flavors, Cryst-o-mint or Butter Rum for best colors)
Mix shortening, sugar, eggs and flavoring. Blend in flour, baking powder and salt. Cover; chill at least 1 hour.
Heat oven to 375°. Roll dough 1/8 inch thick on lightly floured cloth-covered board. Cut into desired shapes, using cutters of two sizes to obtain cutouts, or design your own patterns (see other side). Place cookies on aluminum foil-covered baking sheet. For larger cookies, transfer to baking sheet before cutting out designs. Place whole LIFESAVERS candy in cutouts. Small cutouts may require that the LIFESAVERS candy be broken into smaller pieces (place between paper towels and tap lightly). Fill cutouts until candy is just level with dough. If cookies are to be hung, make a hole in each 1/4 inch from top with end of plastic straw.
Bake 7 to 9 minutes or until cookies are very light brown and LIFESAVERS candy is melted. If LIFESAVERS candy has not spread within cutout design, immediately spread with metal spatula. Cool completely on baking sheet. Gently remove cookies. About 6 dozen 3-inch cookies.
Chocolate Magic Window Cookies: Add 2 ounces melted unsweetened chocolate (cool) with the shortening.
High Altitude: No adjustments are necessary.
*If using self-rising flour, omit baking powder and salt.
The other side of pamphlet: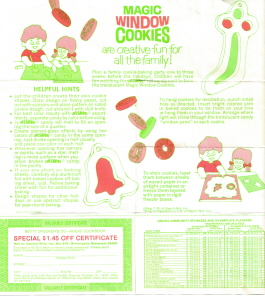 MAGIC WINDOW COOKIES
are creative fun for all the family!
Plan a family cookie-baking party one to three weeks before the holidays. Children will have fun watching the LIFESAVERS roll candy melt to form the translucent Magic Window Cookies.
HELPFUL HINTS
Let the children create their own cookie shapes. Draw design on heavy paper, cut out with scissors and place pattern on rolled cookie dough; cut around it with dull knife.
For best color results with LIFESAVERS assortments, separate candy by color before using.
1/2 LIFESAVERS candy will melt to fill an opening the size of a quarter.
Create stained-glass effects by using two colors of LIFESAVERS candy in the same opening. Just divide opening in half visually and place one color in each half.
Whenever opening has corners or points, such as a star, melting is more uniform when you place broken LIFESAVERS candy in the points.
If you are short on baking sheets, carefully slip aluminum foil with baked cookies off baking sheet; cool. Reline baking sheet with foil for additional baking.
Design shapes for other holidays or use abstract shapes for year-round baking.
To hang cookies for decoration, punch small hole as directed. Insert bright colored yarn in baked cookies to tie them on your tree or hang them in your window. Arrange where light will shine through the translucent candy "window pane" in each cookie.
To store cookies, layer them between sheets of waxed paper in an airtight container or freeze them layered with paper in rigid freezer boxes.
More Recipes For You To Enjoy: