This is a recipe clipping from a magazine that was pasted onto a white index card, date unknown. The person even took the time to cut around the image of the pie (carefully) and and then paste it along with the recipe, looks nice! but stained now. The recipe is typed below as well as a scanned copy you can click to view larger.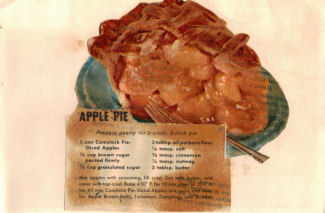 APPLE PIE
Prepare pastry for 2-crust, 8-inch pie
1 can Comstock Pie-Sliced Apples
1/4 cup brown sugar packed firmly
1/2 cup granulated sugar
2 tablsp. all purpose flour
1/4 teasp. salt
3/4 teasp. cinnamon
1/4 teasp. nutmeg
2 tablsp. butter
Mix apples with seasoning, fill crust. Dot with butter, and cover with top crust. Bake 450° F. for 10 min. then at 350° F. for 40 min. Comstock Pie-Sliced Apples are quick and easy for Apple Brown Betty, Turnovers, Dumplings and Strudel.
More Recipes For You To Enjoy: