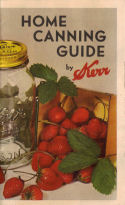 Here are pages 8 and 9 of the vintage Home Canning Guide by Kerr that was published in 1941. The pages are a canning time table that I've provided scanned copies below, only the notes are retyped. The scanned pages are clickable if you'd like to view a larger copy.
To view all the pages in this booklet, please visit the Home Canning Guide: Kerr Category.
Also, please make sure to read Important: Safe Canning & Food Preservation before using any recipes or instructions regarding home canning, things have changed since this booklet was published.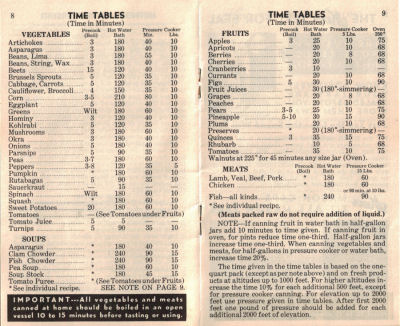 IMPORTANT–All vegetables and meats canned at home should be boiled in an open vessel 10 to 15 minutes before tasting or using.
NOTE—If canning fruit in water bath in half-gallon jars add 10 minutes to time given. If canning fruit in oven, for pints reduce time one-third. Half-gallon jars increase time one-third. When canning vegetables and meats, for half-gallons in pressure cooker or water bath, increase time 20%.
The time given in the time tables is based on the one-quart pack (except as per note above) and on fresh products at altitudes up to 1000 feet. For higher altitudes increase the time 10% for each additional 500 feet, except for pressure cooker canning. For elevation up to 2000 feet use pressure given in time tables. After first 2000 feet one pound of pressure should be added for each additional 2000 feet of elevation.
More Recipes For You To Enjoy: