This large recipe sheet was distributed by LOOK Magazine and found in a large collection, date unknown. Recipes are typed below along with a scanned copy (sheet was too large for scanner so only a partial scan is below).
SALADS & DRESSINGS
PRODUCED BY LOOK MAGAZINE
RUSSIAN DRESSING
Combine 1/2 cup chili sauce, 1/2 cup mayonnaise or salad dressing, 1/4 teaspoon dry mustard. Blend well. Yield: 1 cup dressing.
CHEF'S SALAD
Place torn lettuce in salad bowl which has been rubbed with garlic. Heap with strips of cooked chicken or meat (tongue, smoked ham, cold cuts) and cheese (Swiss or American). Add anchovy strips. Serve with French dressing.
TARTAR SAUCE
Combine 1/4 cup pickle relish with 1/2 cup mayonnaise or salad dressing. Mix well. Yield: 3/4 cup dressing.
COLE SLAW
Wash a medium-sized cabbage. Remove outer leaves. Grate cabbage fine. Grate in small peeled onion and a carrot. Season with salt, pepper, paprika, little sugar. Add mayonnaise and lemon juice or French dressing. Mix together. Yield: 6 servings.
ASPIC SALAD
Use immediately-jellying canned aspic or can of jellied madrilene soup to make aspic salad. Combine shredded vegetables with jellied mixture. Pour into a mold. Chill in refrigerator 15 minutes. Serve on lettuce with favorite dressing.
FRENCH DRESSING
Drop into bottom of jar with tight lid: 1 1/2 cups salad or olive oil, 3/4 teaspoon salt, 1/4 teaspoon pepper, whole peeled clove of garlic if you like. Add: 1/2 cup vinegar or lemon juice. Shake well until mixture thickens. Store in refrigerator, Yield: 1 pint dressing.
AVACADO-GRAPEFRUIT SALAD
Cut one fully ripe avocado in half lengthwise. Life out seed, fill center cavity of each half with grapefruit sections (canned or fresh). Serve with French dressing. Yield: 2 servings.
NON-FAT SALAD DRESSING
Combine in shaker-top jar: 1/4 teaspoon salt, 1/4 teaspoon paprika, 1/4 teaspoon mustard, 1/4 teaspoon pepper, 1 teaspoon chopped onion, 1 teaspoon chopped parsley, 1 teaspoon chopped green pepper; 1/2 cup tomato juice. Shake well and chill.
CAESAR SALAD
Stack 6 slices of day-old bread, remove crusts. Dice into 1/2-inch cubes. Brown in oven. Meanwhile, mash 1 clove garlic thoroughly; add to 3/4 cup olive oil or salad oil (or the two combined). Remove croutons from oven and mix with 6 tablespoons garlic-flavored olive oil. Set aside. Wash and chill 3 quarts salad greens. Break pieces into bowl. At table: Add remains of garlic-flavored salad oil, 1 tablespoon Worcestershire sauce. Season to taste with salt and pepper (freshly ground, for fullest flavor). Add 1/2 cup grated Parmesan or crumbled Roquefort or bleu cheese, or a combination of two. Break 1 egg onto greens; halve 3 lemons, squeeze juice directly over egg. Now toss salad lightly, but thoroughly. Finally add marinated croutons. Toss again and serve. Yield: 6 servings.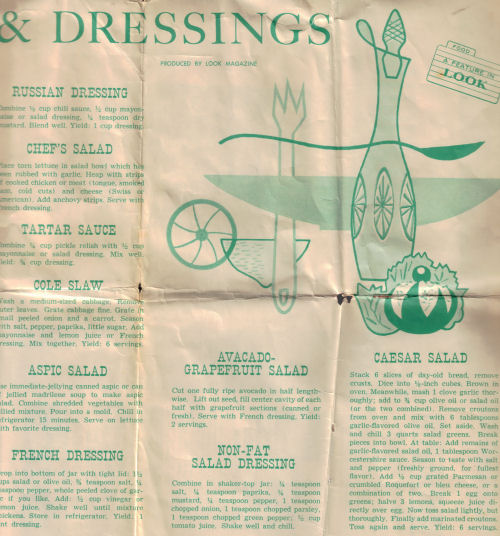 More Recipes For You To Enjoy: