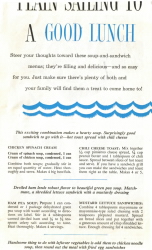 Title: PLAIN SAILING TO A GOOD LUNCH
Steer your thoughts toward these soup-and-sandwich menus; they're filling and delicious–and so easy for you. Just make sure there's plenty of both and your family will find them a treat to come home to!
This exciting combination makes a hearty soup. Surprisingly good sandwich to go with it–hot toast spread with chili cheese
CHICKEN SPINACH CREAM
Cream of spinach soup, condensed, 1 can
Cream of chicken soup, condensed, 1 can
Combine both soups; gradually stir in an equal quantity of water. Heat thoroughly and serve. Makes 4 big bowlfuls.
CHILI CHEESE TOAST: Mix together 1/2 cup pimiento cheese spread, 1/4 cup peanut butter and 1 tablespoon of chili sauce. Spread between slices of hot toast and serve. If you have a sandwich grill you can make the sandwiches and toast them right at the table. Makes 4 or 5.
Deviled ham lends robust flavor to beautiful green pea soup. Match-mate, a shredded lettuce sandwich with a mustardy dressing
HAM PEA SOUP: Prepare 1 can condensed or 1 package dehydrated green pea soup with water according to directions on label. Stir in 4 tablespoons canned deviled ham and 1/4 to 1/2 teaspoon celery salt according to taste. Heat thoroughly. Makes 4 servings.
MUSTARD LETTUCE SANDWICHES: Combine 4 tablespoons mayonnaise or mayonnaise-type salad dressing with 2 teaspoons prepared mustard. Spread on bread slices and put together with a generous amount of crisp shredded lettuce. Enough dressing for 4 sandwiches.
Handsome thing to do with leftover vegetables is add them to chicken noodle soup, then round out the meal with fried egg sandwiches
On the back of clipping:
we serve canned corned beef hash in three new ways
*clipping only includes two
BARBECUED SLICES: Chill pound can of corned beef hash. Open can at both ends, remove contents whole, slice into 4 rounds. Brown on both sides in skillet in a little fat. Combine 1/4 cup ketchup, 1 teaspoon prepared mustard and 1 teaspoon vinegar in measuring cup, pour into skillet, carefully turn slices of hash over in the ketchup sauce.
HASH AND VEGETABLE PIE: Spread corned beef hash in lightly greased 8-inch pie-pan, pressing it against the sides and bottom with a spoon to leave hollow in center. Bake in hot oven 425 degrees about 25 minutes. Heap center with hot cooked cut-up cabbage or green beans (about 3 cups) well drained, seasoned with 2 tablespoons mayonnaise.
More Recipes For You To Enjoy: