This vintage recipe was clipped from a newspaper and found in a large collection, date unknown. I've typed it below along with a scanned copy.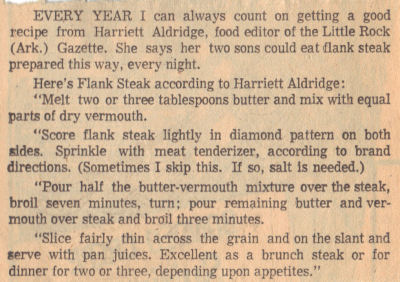 Flank Steak Recipe
EVERY YEAR I can always count on getting a good recipe from Harriett Aldridge, food editor of the Little Rock (Ark.) Gazette. She says her two sons could eat flank steak prepared this way, every night.
Here's Flank Steak according to Harriett Aldridge:
"Melt two or three tablespoons butter and mix with equal parts of dry vermouth.
"Score flank steak lightly in diamond pattern on both sides. Sprinkle with meat tenderizer, according to brand directions. (Sometimes I skip this. If so, salt is needed.)
"Pour half the butter-vermouth mixture over the steak, broil seven minutes, turn; pour remaining butter and vermouth over steak and broil three minutes.
"Slice fairly thin across the grain and on the slant and serve with pan juices. Excellent as a brunch steak or for dinner for two or three, depending upon appetites."
More Recipes For You To Enjoy: