Here's a promo recipe card from The Good Sam RV Cookbook that was found in a large collection, date unknown. I've typed it out below along with a scanned copy (front side only).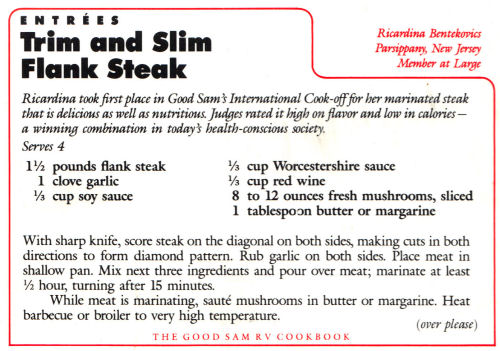 Trim and Slim Flank Steak
Ricardina took first place in Good Sam's International Cook-off for her marinated steak that is delicious as well as nutritious. Judges rated it high on flavor and low in calories–a winning combination in today's health-conscious society.
Serves 4
1 1/2 pounds flank steak
1 clove garlic
1/3 cup soy sauce
1/3 cup Worcestershire sauce
1/3 cup red wine
8 to 12 ounces fresh mushrooms, sliced
1 tablespoon butter or margarine
With sharp knife, score steak on the diagonal on both sides, making cuts in both directions to form diamond pattern. Rub garlic on both sides. Place meat in shallow pan. Mix next three ingredients and pour over meat; marinate at least 1/2 hour, turning after 15 minutes.
While meat is marinating, saute mushrooms in butter or margarine. Heat barbecue or broiler to very high temperature.
Remove steak from marinade and reserve liquid. Grill 4 to 5 minutes on each side; it will cook very rapidly. Remove from heat and place on platter; slice in thin strips against grain and cover with mushrooms. Serve immediately with warmed marinade.
Hint: One teaspoon garlic may be substituted for clove of garlic, but do not use garlic salt. Marinade can be used with other cuts of meat.
THE GOOD SAM RV COOKBOOK
More Recipes For You To Enjoy: