Here is a handwritten recipe for Toffee Bars on a white lined index card, it's a bit yellow with age but I have no date for it. I've typed it below as-is.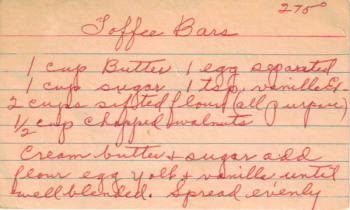 Toffee Bars
275°
1 cup butter
1 egg separated
1 cup sugar
1 tsp vanilla ex.
2 cups sifted flour (all purpose)
1/2 cup chopped walnuts
Cream butter & sugar add flour egg yolk & vanilla, until well blended. Spread evenly in bottom of well greased on jelly roll pan. Brush top with egg white, and sprinkle with nuts. Bake 1 hr. + 10 min. or until golden brown. Immediately cut into 50 bars, and remove from pan to rack. Store tightly covered for at least 3 days. These are better made ahead of time.
(Eleanor)
More Recipes For You To Enjoy: