Here are three recipes from Woman's Day Kitchen dated October 1943. Saucepan Cocoa Brownies, Small Popcorn Balls and Burnt Sugar Fudge. Recipes follow image below: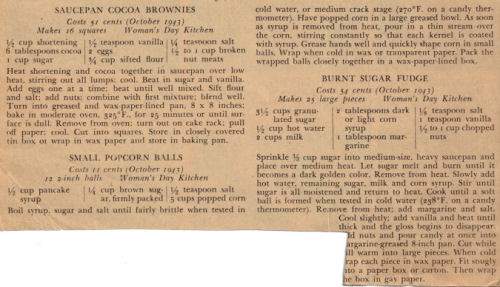 SAUCEPAN COCOA BROWNIES
Costs 51 cents (October 1943)
Makes 16 squares Woman's Day Kitchen
1/2 cup shortening
6 tablespoons cocoa
1 cup sugar
1/2 teaspoon vanilla
2 eggs
3/4 cup sifted flour
1/4 teaspoon salt
1/2 to 1 cup broken nut meats
Heat shortening and cocoa together in saucepan over low heat, stirring out all lumps; cool. Beat in sugar and vanilla. Add eggs one at a time; beat until well mixed. Sift flour and salt; add nuts; combine with first mixture; blend well. Turn into greased and wax-paper-lined pan, 8 x 8 inches; bake in moderate oven, 325°F., for 25 minutes or until surface is dull. Remove from oven; turn out on cake rack; pull off paper; cool. Cut into squares. Store in closely covered tin box or wrap in wax paper and store in baking pan.
SMALL POPCORN BALLS
Costs 11 cents (October 1943)
12 2-inch balls Woman's Day Kitchen
1/2 cup pancake syrup
1/4 cup brown sugar, firmly packed
1/2 teaspoon salt
5 cups popped corn
Boil syrup, sugar and salt until fairly brittle when tested in cold water, or medium crack stage (270°F. on a candy thermometer). Have popped corn in a large greased bowl. As soon as syrup is removed from heat, pour in a thin stream over the corn, stirring constantly so that each kernel is coated with syrup. Grease hands well and quickly shape corn in small balls. Wrap when cold in wax or transparent paper. Pack the wrapped balls closely together in a wax-paper-lined box.
BURNT SUGAR FUDGE
Costs 54 cents (October 1943)
Makes 25 large pieces Woman's Day Kitchen
3 1/2 cups granulated sugar
1/2 cup hot water
2 cups milk
2 tablespoons dark or light corn syrup
1 tablespoon margarine
1/8 teaspoon salt
1 teaspoon vanilla
1/2 to 1 cup chopped nuts
Sprinkle 1/3 cup sugar into medium-size, heavy saucepan and place over medium heat. Let sugar melt and burn until it becomes a dark golden color. Remove from heat. Slowly add hot water, remaining sugar, milk and corn syrup. Stir until sugar is all moistened and return to heat. Cook until a soft ball is formed when tested in cold water (238°F. on a candy thermometer). Remove from heat; add margarine and salt. Cool slightly; add vanilla and beat until thick and the gloss begins to disappear. Add nuts and pour candy at once into margarine-greased 8-inch-pan. Cut while still warm into large pieces. When cold wrap each piece in wax paper. Fit snugly into a paper box or carton. Then wrap the box in gay paper.
More Recipes For You To Enjoy: