This promo recipe card was found in a large collection, date unknown. I believe it's from Rice Chex since it's one of the ingredients required. I've typed it below along with a scanned copy (front side only).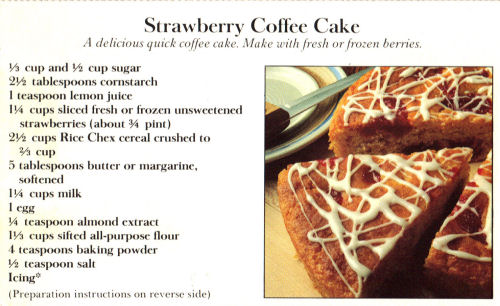 Strawberry Coffee Cake
A delicious quick coffee cake. Make with fresh or frozen berries.
1/3 cup and 1/2 cup sugar
2 1/2 tablespoons cornstarch
1 teaspoon lemon juice
1 1/4 cups sliced fresh or frozen unsweetened strawberries (about 3/4 pint)
2 1/2 cups Rice Chex cereal crushed to 2/3 cup
5 tablespoons butter or margarine, softened
1 1/4 cups milk
1 egg
1/4 teaspoon almond extract
1 1/3 cups sifted all-purpose flour
4 teaspoons baking powder
1/2 teaspoon salt
Icing*
In small saucepan combine 1/3 cups sugar and cornstarch. Add lemon juice and strawberries. Stir until dry ingredients are moistened. Cook and stir over medium heat until mixture becomes very thick and clear. Set aside.
Preheat oven to 400°. Grease 9-inch round cake pan. Combine Rice Chex crumbs and butter. Beat in milk, egg and almond extract. (Mixture will be lumpy.) Sift together flour, baking powder, salt and remaining 1/2 cup sugar. Add to liquid ingredients. Stir until moistened. Turn into pan. Drop strawberry mixture by scant teaspoons over top of batter. Cut through with knife two or three times.
Bake 25-30 minutes or until tester inserted in center comes out clean. Cool. Drizzle with Icing*.
*Icing: Combine 1/2 cup sifted confectioners sugar, 1/2 tablespoon warm water, 1/2 teaspoon light corn syrup and 1/8 teaspoon vanilla.
Makes 6-8 servings.
More Recipes For You To Enjoy: