This handwritten recipe card was found in a large collection, date unknown. I've typed it below along with a scanned copy.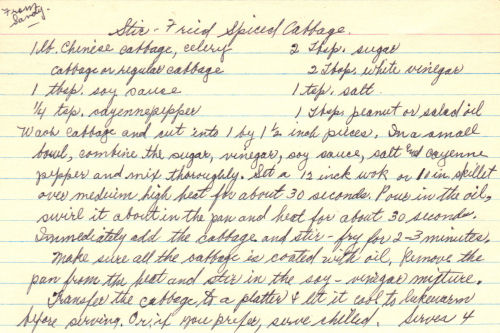 Stir-Fried Spiced Cabbage
1 lb. Chinese cabbage, celery cabbage or regular cabbage
1 tbsp. soy sauce
1/4 tsp. cayenne pepper
2 Tbsp. sugar
2 Tbsp. white vinegar
1 tsp. salt
1 Tbsp. peanut or salad oil
Wash cabbage and cut into 1 by 1 1/2 inch pieces. In a small bowl, combine the sugar, vinegar, soy sauce, salt and cayenne pepper and mix thoroughly. Set a 12 inch wok or 10 in. skillet over medium high heat for about 30 seconds. Pour in the oil, swirl it about in the pan and heat for about 30 seconds. Immediately add the cabbage and stir-fry for 2-3 minutes.
Make sure all the cabbage is coated with oil. Remove the pan from the heat and stir in the soy-vinegar mixture.
Transfer the cabbage to a platter & let it cool to lukewarm before serving. Or, if you prefer, serve chilled.
Serves 4.
More Recipes For You To Enjoy: