This recipe was written on a lined index card and found in a large collection, date unknown. I've typed it below along with a scanned copy.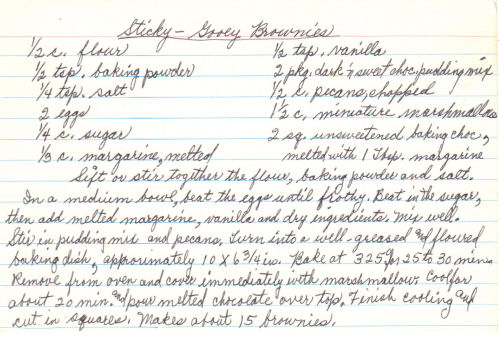 Sticky-Gooey Brownies
1/2 c. flour
1/2 tsp. baking powder
1/4 tsp. salt
2 eggs
1/4 c. sugar
1/3 c. margarine, melted
1/2 tsp. vanilla
2 pkg. dark 'n sweet choc. pudding mix
1/2 c. pecans, chopped
1 1/2 c. miniature marshmallows
2 sq. unsweetened baking choc, melted with 1 Tbsp. margarine
Sift or stir together the flour, baking powder and salt.
In a medium bowl, beat the eggs until frothy. Beat in the sugar, then add melted margarine, vanilla and dry ingredients. Mix well. Stir in pudding mix and pecans. Turn into a well-greased and floured baking dish, approximately 10×6 3/4 in. Bake at 325° for 25 to 30 min.
Remove from oven and cover immediately with marshmallow. Cool for about 20 min. and pour melted chocolate over top. Finish cooling and cut in squares. Makes about 15 brownies.
More Recipes For You To Enjoy: