This promo recipe from Crisco was clipped from a label (likely from a can of Crisco) and found in a large collection, date unknown. I've typed it below along with a scanned copy.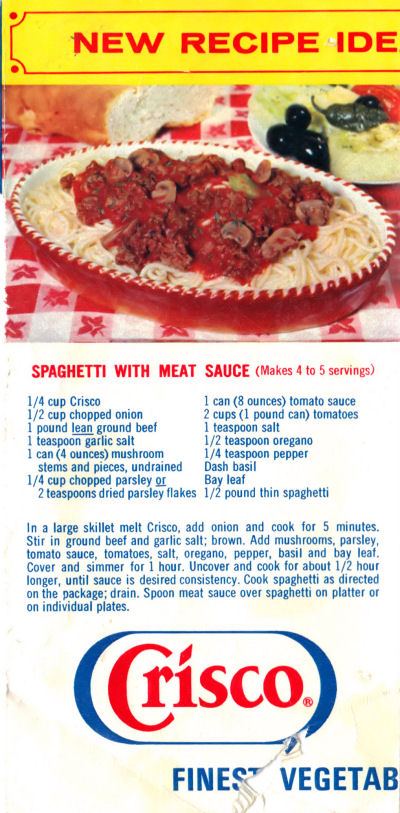 SPAGHETTI WITH MEAT SAUCE
(Makes 4 to 5 servings)
1/4 cup Crisco
1/2 cup chopped onion
1 pound lean ground beef
1 teaspoon garlic salt
1 can (4 ounces) mushroom stems and pieces, undrained
1/4 cup chopped parsley or 2 teaspoons dried parsley flakes
1 can (8 ounces) tomato sauce
2 cups (1 pound can) tomatoes
1 teaspoon salt
1/2 teaspoon oregano
1/4 teaspoon pepper
Dash basil
Bay leaf
1/2 pound thin spaghetti
In a large skillet melt Crisco, add onion and cook for 5 minutes. Stir in ground beef and garlic salt; brown. Add mushrooms, parsley, tomato sauce, tomatoes, salt, oregano, pepper, basic and bay leaf. Cover and simmer for 1 hour. Uncover and cook for about 1/2 hour longer, until sauce is desired consistency. Cook spaghetti as directed on the package; drain. Spoon meat sauce over spaghetti on platter or on individual plates.
More Recipes For You To Enjoy: