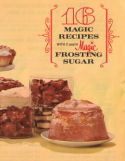 Here is the third page of recipes in the vintage cookbooklet "16 Magic Recipes With C and H Magic Frosting Sugar". Date of the booklet is unknown since there's no publish date printed anywhere on the booklet.
You can view all the pages in this little book by visiting this category: 16 Magic Recipe With C and H Magic Frosting Sugar, just click a page title to view that section of the book. You'll find a scan of the page included below (click to view a larger size) as well as a typed version for easy printing.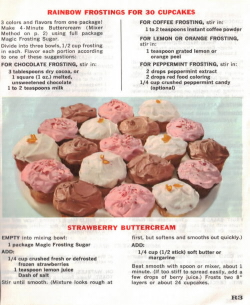 RAINBOW FROSTINGS FOR 30 CUPCAKES
3 colors and flavors from one package! Make 4-Minute Buttercream (Mixer Method on p. 2) using full package Magic Frosting Sugar.
Divide into three bowls, 1/2 cup frosting in each. Flavor each portion according to one of these suggestions:
FOR CHOCOLATE FROSTING, stir in:
3 tablespoons dry cocoa, or 1 square (1 oz.) melted, unsweetened chocolate
1 to 2 teaspoons milk
FOR COFFEE FROSTING, stir in:
1 to 2 teaspoons instant coffee powder
FOR LEMON OR ORANGE FROSTING,
stir in:
1 teaspoon grated lemon or orange peel
FOR PEPPERMINT FROSTING, stir in:
2 drops peppermint extract
2 drops red food coloring
1/4 cup crushed peppermint candy (optional)
STRAWBERRY BUTTERCREAM
EMPTY into mixing bowl:
1 package Magic Frosting Sugar
ADD:
1/4 cup crushed fresh or defrosted frozen strawberries
1 teaspoon lemon juice
Dash of salt
Stir until smooth. (Mixture looks rough at first, but softens and smooths out quickly.)
ADD:
1/4 cup (1/2 stick) soft butter or margarine
Beat smooth with spoon or mixer, about 1 minute. (If too stiff to spread easily, add a few drops of berry juice.) Frosts two 8″ layers or about 24 cupcakes.
More Recipes For You To Enjoy: