Vintage recipe card from The East Ohio Gas Company. Date unknown. Front of card reads: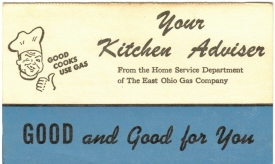 Your Kitchen Adviser
From the Home Service Department of The East Ohio Gas Company
GOOD and Good for You
Good Cooks Use Gas
Back of card:
File: Sandwiches
Quick and Easy Sandwich Ideas
MAKE this tasty spread for rye bread sandwiches. Blend 1 cup cottage cheese with 1 small package of crumbled bleu or roquefort cheese. Add 4 slices bacon bits, 3 sliced olives and enough mayonnaise to moisten. This is also delicious served on pumpernickel bread. Yield 4 sandwiches.
TRY this breakfast sandwich! Scramble 4 eggs with 2 tablespoons parmesan cheese, and 3 sliced scallions or chopped ripe olives. Serve on toast and top with a tomato sauce. Sauce: 1 small can tomato sauce, 3 tablespoons chopped green pepper and 1 tablespoon chopped onion.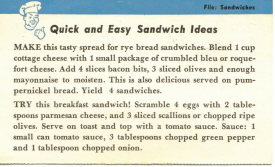 More Recipes For You To Enjoy: