This recipe is from an old Squirrel Peanut Butter booklet, no date. The inside cover has a note from Jean White, Home Services Director. No date anywhere, but judging from her picture, I'd guess 1960's.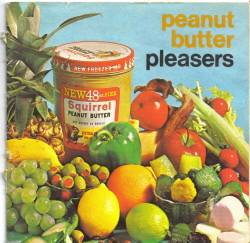 SANDWICH LOAF
1 long crusty french loaf
1/4 cup water
1/2 tsp. salt
1/2 tsp. Nabob Coarse Black Pepper
3/4 tsp. Worcestershire Sauce
1/3 cup Squirrel Peanut Butter (Smooth or Crunchy)
3/4 cup soft fine bread crumbs
1 tbsp. Nabob Parsley Flakes
1/3 cup Nabob Onion Flakes
2 tbsp. finely minced green pepper
1 egg
1 lb. ground round/chuck
Cut a lengthwise "V" from the top of the loaf. Remove wedge and with fork pull out soft bread crumbs from inside the loaf until about an inch thick shell of bread and crust remains.
Mix bread crumbs (3/4 cup) with all other ingredients and pile lightly into the bread shell.
Cover with top crust and tie tightly with string. Wrap in aluminum foil and bake at 350 degrees F. for approximately 1 hour.
Serve slices hot, or cool the roll in foil and use for lunch boxes.
More Recipes For You To Enjoy: