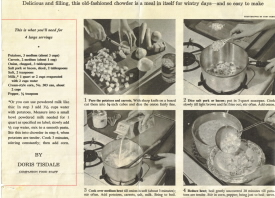 This recipe is clipped from an old magazine, no date.
Delicious and filling, this old-fashioned chowder is a meal in itself for wintry days–and so easy to make
This is what you'll need for 4 large servings
Potatoes, 3 medium (about 3 cups)
Carrots, 2 medium (about 1 cup)
Onion, chopped, 3 tablespoons
Salt pork or bacon, diced, 2 tablespoons
Salt, 2 teaspoons
Milk,* 1 quart or 2 cups evaporated with 2 cups water
Cream-style corn, No. 303 can, about 2 cups
Pepper, 1/8 teaspoon
*Or you can use powdered milk like this: In step 3 add 3 1/2 cups water with potatoes. Measure into a small bowl powdered milk needed for 1 quart as specified on label; slowly add 1/2 cup water, mix to a smooth paste. Stir this into chowder in step 4, when potatoes are tender. Cook 3 minutes, stirring constantly; then add corn.
BY
DORIS TISDALE
COMPANION FOOD STAFF
Pare the potatoes and carrots. With sharp knife on a board cut them into 3/8-inch cubes and dice the onion fairly fine.
Dice salt pork or bacon; put in 3-quart saucepan. Cook slowly till light brown and fat fries out; stir often. Add onion.
Cook over medium heat till onion is soft (about 3 minutes); stir often. Add potatoes, carrots, salt, milk. Bring to boil.
Reduce heat; boil gently uncovered 20 minutes till potatoes are tender. Stir in corn, pepper; bring just to boil; serve.
More Recipes For You To Enjoy: