This recipe was written on a lined index card and found in a large collection, date unknown. I've typed it below along with a scanned copy (front side only).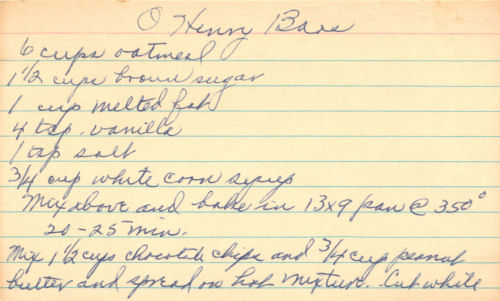 O Henry Bars
6 cups oatmeal
1 1/2 cups brown sugar
1 cup melted fat
4 tsp. vanilla
1 tsp salt
3/4 cup white corn syrup
Mix above and bake in 13×9 pan @ 350° 20-25 min.
Mix 1 1/2 cups chocolate chips and 3/4 cup peanut butter and spread on hot mixture. Cut while warm – refrigerate.
More Recipes For You To Enjoy: