This promo recipe from Guy's walnut pieces was clipped from a newspaper and found in a large collection, date unknown. I've typed it below along with a scanned copy.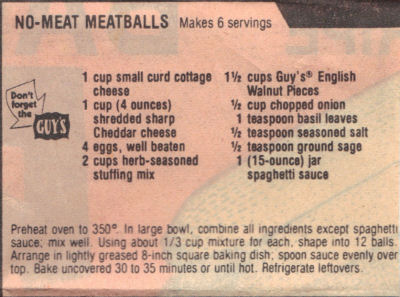 NO-MEAT MEATBALLS
Makes 6 servings
1 cup small curd cottage cheese
1 cup (4 ounces) shredded sharp Cheddar cheese
4 eggs, well beaten
2 cups herb-seasoned stuffing mix
1 1/2 cups Guy's English Walnut Pieces
1/2 cup chopped onion
1 teaspoon basil leaves
1/2 teaspoon seasoned salt
1/2 teaspoon ground sage
1 (15-ounce) jar spaghetti sauce
Preheat oven to 350°. In large bowl, combine all ingredients except spaghetti sauce; mix well. Using about 1/3 cup mixture for each, shape into 12 balls. Arrange in lightly greased 8-inch square baking dish; spoon sauce evenly over top. Bake uncovered 30 to 35 minutes or until hot. Refrigerate leftovers.
More Recipes For You To Enjoy: