This is a clipping from some sort of paper packaging, maybe a box of mincemeat? Recipe is typed in full below with a scan of the clipping alongside.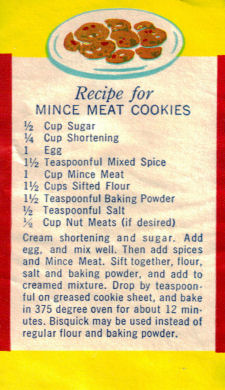 Recipe for
MINCE MEAT COOKIES
1/2 Cup Sugar
1/4 Cup Shortening
1 Egg
1 1/2 Teaspoonful Mixed Spice
1 Cup Mince Meat
1 1/2 Cups Sifted Flour
1 1/2 Teaspoonful Baking Powder
1/2 Teaspoonful Salt
1/2 Cup Nut Meats (if desired)
Cream shortening and sugar. Add egg, and mix well. Then add spices and Mince Meat. Sift together, flour, salt and baking powder, and add to creamed mixture. Drop by teaspoonful on greased cookie sheet, and bake in 375 degree oven for about 12 minutes. Bisquick may be used instead of regular flour and baking powder.
More Recipes For You To Enjoy: