This recipe was clipped and saved from some sort of packaging, maybe a box of mince meat. The date is unknown, recipe is typed in full below as well as a scanned image.
Delicious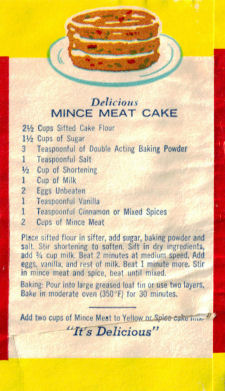 MINCE MEAT CAKE
2 1/2 Cups Sifted Cake Flour
1 1/2 Cups of Sugar
3 Teaspoonful of Double Acting Baking Powder
1 Teaspoonful Salt
1/2 Cup of Shortening
1 Cup of Milk
2 Eggs Unbeaten
1 Teaspoonful Vanilla
1 Teaspoonful Cinnamon or Mixed Spices
2 Cups of Mince Meat
Place sifted flour in sifter, add sugar, baking powder and salt. Stir shortening to soften. Sift in dry ingredients, add 3/4 cup milk. Beat 2 minutes at medium speed. Add eggs, vanilla, and rest of milk. Beat 1 minute more. Stir in mince meat and spice, beat until mixed.
Baking: Pour into large greased loaf tin or use two layers. Bake in moderate oven (350°F.) for 30 minutes.
—————————–
Add two cups of Mince Meat to Yellow or Spice cake mix.
"It's Delicious"
More Recipes For You To Enjoy: