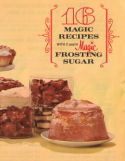 Here is the fourth page of recipes in the vintage cookbooklet "16 Magic Recipes With C and H Magic Frosting Sugar". Date of the booklet is unknown since there's no publish date printed anywhere on the booklet.
You can view all the pages in this little book by visiting this category: 16 Magic Recipe With C and H Magic Frosting Sugar, just click a page title to view that section of the book. You'll find a scan of the page included below (click to view a larger size) as well as a typed version for easy printing.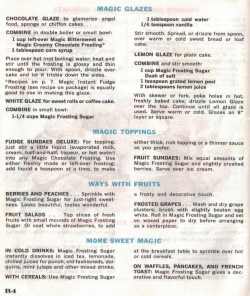 MAGIC GLAZES
CHOCOLATE GLAZE to glamorize angel food, sponge or chiffon cakes.
COMBINE in double boiler or small bowl:
1 cup left-over Magic Bittersweet or Magic Creamy Chocolate Frosting*
1 tablespoon corn syrup
Place over hot (not boiling) water; heat and stir until the frosting is glossy and thin enough to pour. With spoon, drizzle over cake and let it trickle down the sides.
*Recipes on p. 7. Magic Instant Fudge Frosting (see recipe on package) is equally good to use in making this glaze.
WHITE GLAZE for sweet rolls or coffee cake.
COMBINE in small bowl:
1-1/4 cups Magic Frosting Sugar
1 tablespoon cold water
1/4 teaspoon vanilla
Stir smooth. Spread, or drizzle from spoon, over warm or cold sweet bread or loaf cake.
LEMON GLAZE for plain cake.
COMBINE and stir smooth:
1 cup Magic Frosting Sugar
Dash of salt
1 teaspoon grated lemon peel
2 tablespoons lemon juice
With skewer or fork, poke holes in hot, freshly baked cake; drizzle Lemon Glaze over the top. Continue until all glaze is used. Serve warm or cold. Glazes an 8″ layer or square.
MAGIC TOPPINGS
FUDGE SUNDAES DELUXE: For topping, just stir a little liquid (evaporated milk, cream, half-and-half, liqueur, or hot water) into any Magic Chocolate Frosting. Use either freshly made or left-over frosting; add liquid a teaspoon at a time, to make either a thick, rich topping or a thinner sauce as you prefer.
FRUIT SUNDAES: Mix equal amounts of Magic Frosting Sugar and slightly crushed berries. Serve over ice cream.
WAYS WITH FRUITS
BERRIES AND PEACHES…Sprinkle with Magic Frosting Sugar for just-right sweetness. Looks beautiful, tastes wonderful.
FRUIT SALADS…Top slices of fresh fruits with small mounds of Magic Frosting Sugar. Or coat whole strawberries, to add a frosty and decorative touch.
FROSTED GRAPES…Wash and dry grape clusters; brush with slightly beaten egg white. Roll in Magic Frosting sugar and set on waxed paper to dry before arranging as a centerpiece.
MORE SWEET MAGIC
IN COLD DRINKS: Magic Frosting Sugar instantly dissolves in iced tea, lemonade, chilled juices for punch, old-fashioneds, daiquiris, mint juleps and other mixed drinks.
WITH CEREALS: Use Magic Frosting Sugar at the breakfast table to sprinkle over hot or cold cereals.
ON WAFFLES, PANCAKES, AND FRENCH TOAST: Magic Frosting Sugar gives a decorative and flavorful touch.
More Recipes For You To Enjoy: