This is a recipe card that says ACME Click in the top left corner and Top Fresh Guaranteed in top right corner. No date, but there is 1/79 at the bottom right corner that could indicate date/year. Recipe follows: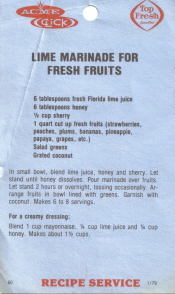 LIME MARINADE FOR FRESH FRUITS
6 tablespoons fresh Florida lime juice
6 tablespoons honey
1/2 cup sherry
1 quart cut up fresh fruits (strawberries, peaches, plums, bananas, pineapple, papaya, grapes, etc.)
Salad greens
Grated coconut
In small bowl, blend lime juice, honey and sherry. Let stand until honey dissolves. Pour marinade over fruits. Let stand 2 hours or overnight, tossing occasionally. Arrange fruits in bowl lined with greens. Garnish with coconut. Makes 6 to 8 servings.
For a creamy dressing:
Blend 1 cup mayonnaise, 1/4 cup lime juice and 1/4 cup honey. Makes about 1 1/2 cups.
More Recipes For You To Enjoy: