This recipe was clipped from a box of Jiffy Baking Mix, date unknown. Recipe is typed below along with a scanned copy.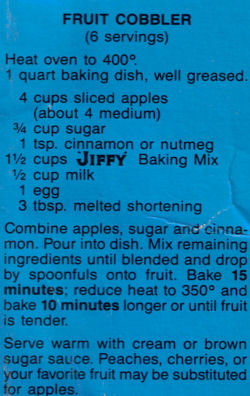 FRUIT COBBLER
(6 servings)
Heat oven to 400°.
1 quart baking dish, well greased.
4 cups sliced apples (about 4 medium)
3/4 cup sugar
1 tsp. cinnamon or nutmeg
1 1/2 cups 'JIFFY' Baking Mix
1/2 cup milk
1 egg
3 tbsp. melted shortening
Combine apples, sugar and cinnamon. Pour into dish. Mix remaining ingredients until blended and drop by spoonfuls onto fruit. Bake 15 minutes; reduce heat to 350° and bake 10 minutes longer or until fruit is tender.
Serve warm with cream or brown sugar sauce. Peaches, cherries, or your favorite fruit may be substituted for apples.
More Recipes For You To Enjoy: