This is a promo card for Knox Gelatine that is part of a collectible set (of 24), they measure 3 1/4″ x 2 1/4″ (approx). This was found in a large collection of recipes and I'll be sharing a few of these cards here on RecipeCurio. Date is unknown. Card is typed below along with a scanned copy (of both front and back).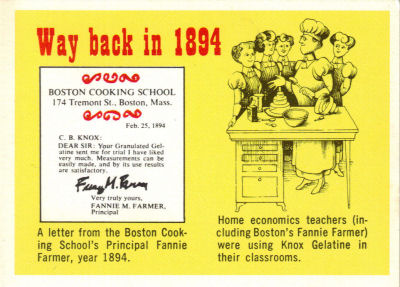 Series 1
No. 3
Set of 24
HOW TO DISSOLVE GELATINE
DISSOLVING GELATINE…Sprinkle gelatine evenly over cold liquid; do not pour in a heap. Stir constantly over low heat until dissolved…about 2 or 3 minutes. Use a medium saucepan, about 2 quarts, rather than a small one. This provides more surface area and the gelatine dissolves more quickly.
GELATINE IS DISSOLVED…when there are no visible granules in the liquid. Only if gelatine has been completely dissolved will the mold be firm.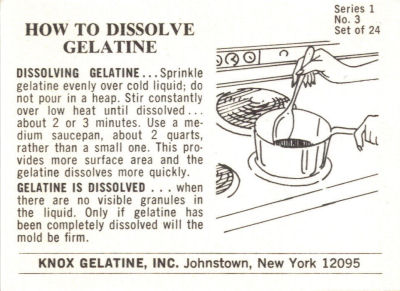 More Recipes For You To Enjoy: