This recipe was clipped from the North Penn Reporter newspaper (Lansdale, PA) dated 1951 and found in a large collection of clippings. The recipe is typed in full below as well as a scanned copy.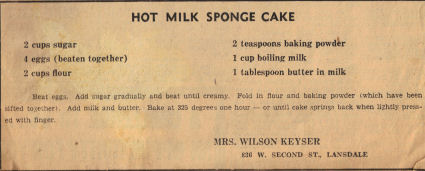 HOT MILK SPONGE CAKE
2 cups sugar
4 eggs (beaten together)
2 cups flour
2 teaspoons baking powder
1 cup boiling milk
1 tablespoon butter in milk
Beat eggs. Add sugar gradually and beat until creamy. Fold in flour and baking powder (which have been sifted together). Add milk and butter. Bake at 325 degrees one hour — or until cake springs back when lightly pressed with finger.
More Recipes For You To Enjoy: