This recipe was written on an index card and found in a large collection, date unknown. I've typed it below along with a scanned copy (front side only).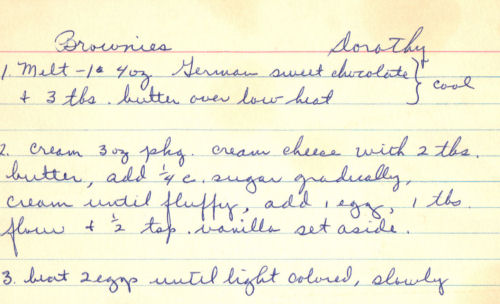 Brownies
Melt – 1 4 oz German sweet chocolate & 3 tbs. butter over low heat. Cool.
Cream 3 oz pkg. cream cheese with 2 tbs. butter, add 1/4 c. sugar gradually. Cream until fluffy, add 1 egg, 1 tbs. flour & 1/2 tsp. vanilla. Set aside.
Beat 2 eggs until light colored, slowly add 3/4 c. sugar, beat until thickened. Add 1/2 tsp. Baking Powder, 1/4 tsp. salt & 1/2 cup flour. Blend in chocolate mixture, 1/4 tsp. almond extract & 1/2 cup chopped nuts.
To bake. Spread 1/2 the chocolate mixture in greased 8×9″ pan. Top with cheese mixture. Spoon remaining chocolate batter on top. Zig-zag knife thru batter to marble.
Bake 350° for 35-40 min.
More Recipes For You To Enjoy: