This recipe was written on a lined index card and found in a large collection, date unknown. I've typed it below along with a scanned copy.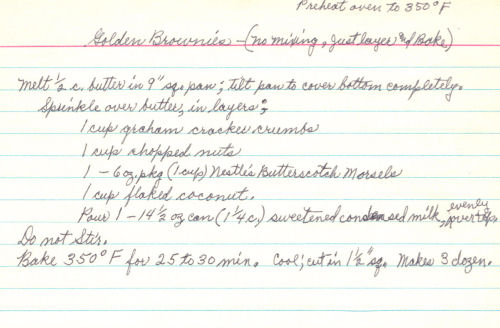 Golden Brownies
(no mixing, just layer and bake)
Preheat oven to 350°F
Melt 1/2 c. butter in 9″ sq. pan; tilt pan to cover bottom completely.
Sprinkle over butter, in layers:
1 cup graham cracker crumbs
1 cup chopped nuts
1 – 6 oz. pkg (1 cup) Nestle's Butterscotch Morsels
1 cup flaked coconut
Pour 1 – 14 1/2 oz can (1 1/4 c) sweetened condensed milk evenly over top.
Do not stir.
Bake 350°F for 25 to 30 min. Cool; cut in 1 1/2″ sq. Makes 3 dozen.
More Recipes For You To Enjoy: