This looks to be torn from the back of a Gold Medal flour bag. Date unknown but I believe it to be 1980, a few different recipes offered.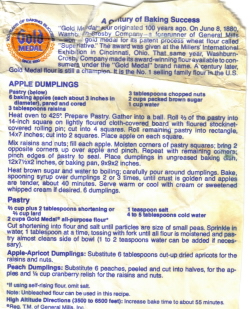 A Century of Baking Success
"Gold Medal" flour originated 100 years ago. On June 8, 1880, Washburn-Crosby Company–a forerunner of General Mills–won a gold medal for its patent process wheat flour called "Superlative." The award was given at the Millers' International Exhibition in Cincinnati, Ohio. That same year, Washburn-Crosby Company made its award-winning flour available to consumers under the "Gold Medal" brand name. A century later, Gold Medal flour is still a champion. It is the No. 1 selling family flour in the U.S.
APPLE DUMPLINGS
Pastry (below)
6 baking apples (each about 3 inches in diameter), pared and cored
3 tablespoons raisins
3 tablespoons chopped nuts
2 cups packed brown sugar
1 cup water
Heat oven to 425°. Prepare Pastry. Gather into a ball. Roll 2/3 of the pastry into 14-inch square on lightly floured cloth-covered board with floured stockinet-covered rolling pin; cut into 4 squares. Roll remaining pastry into rectangle, 14×7 inches; cut into 2 squares. Place apple on each square.
Mix raisins and nuts; fill each apple. Moisten corners of pastry squares; bring 2 opposite corners up over apple and pinch. Repeat with remaining corners; pinch edges of pastry to seal. Place dumplings in ungreased baking dish, 12×7 1/2 x 2 inches, or baking pan, 9x9x2 inches.
Heat brown sugar and water to boiling; carefully pour around dumplings. Bake, spooning syrup over dumplings 2 or 3 times, until crust is golden and apples are tender, about 40 minutes. Serve warm or cool with cream or sweetened whipped cream if desired. 6 dumplings.
Pastry
2/3 cup plus 2 tablespoons shortening or 2/3 cup lard
2 cups Gold Medal all-purpose flour*
1 teaspoon salt
4 to 5 tablespoons cold water
Cut shortening into flour and salt until particles are size of small peas. Sprinkle in water, 1 tablespoon at a time, tossing with fork until all flour is moistened and pastry almost cleans side of bowl (1 to 2 teaspoons water can be added if necessary).
Apple-Apricot Dumplings: Substitute 6 tablespoons cut-up dried apricots for the raisins and nuts.
Peach Dumplings: Substitute 6 peaches, peeled and cut into halves, for the apples and 1/4 cup cranberry relish for the raisins and nuts.
*If using self-rising flour, omit salt.
Note: Unbleached flour can be used in the recipe.
High Altitude Directions (3500 to 6500 feet): Increase bake time to about 55 minutes.
More Recipes For You To Enjoy: