This recipe was written on a lined index card and found in a large collection, date unknown. I've typed it below along with a scanned copy.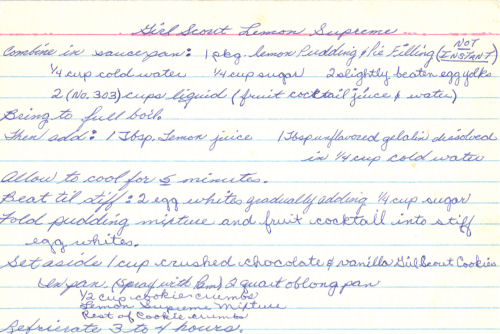 Girl Scout Lemon Supreme
Combine in saucepan:
1 pkg. lemon pudding & pie filling (NOT INSTANT)
1/4 cup cold water
1/4 cup sugar
2 slightly beaten egg yolks
2 (No. 303) cups liquid (fruit cocktail juice & water)
Bring to full boil.
Then add:
1 Tbsp. lemon juice
1 Tbsp unflavored gelatin dissolved in 1/4 cup cold water
Allow to cool for 5 minutes.
Beat til stiff:
2 egg whites gradually adding 1/4 cup sugar
Fold pudding mixture and fruit cocktail into stiff egg whites.
Set aside 1 cup crushed chocolate & vanilla Girl Scout Cookies.
In pan (spray with Pam) 2 quart oblong pan
1/2 cup cookies crumbs
Lemon Supreme Mixture
Rest of cookie crumbs
Refrigerate 3 to 4 hours.
More Recipes For You To Enjoy: