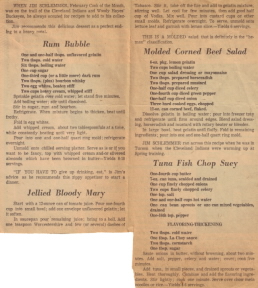 WHEN JIM SCHLEMMER, February Cook of the Month, was on the trail of the Cleveland Indians and Woody Hayes' Buckeyes, he always scouted for recipes to add to his collection.
Jim recommends this delicious dessert as a perfect ending to a heavy meal.
RUM BUBBLE
One and one-half tbsps. unflavored gelatin
Two tbsps. cold water
Six tbsps. boiling water
One cup sugar
One-third cup (or a little more) dark rum
Two tbsps. (plus) bourbon whisky
Two egg whites, beaten stiff
Two cups heavy cream, whipped stiff
Sprinkle gelatin over cold water; let stand five minutes.
Add boiling water; stir until dissolved.
Stir in sugar, rum and bourbon.
Refrigerate. When mixture begins to thicken, beat until frothy.
Fold in egg whites.
Add whipped cream, about two tablespoonfuls at a time, while constantly beating until very light.
Pour into one and one-half quart ring mold; refrigerate overnight.
Unmold onto chilled serving platter. Serve as is or if you want to be fancy, top with whipped cream and-or slivered almonds which have been browned in butter–Yields 8-10 servings.
"IF YOU HAVE TO give up drinking, eat," is Jim's advice as he recommends this zippy appetizer to start a dinner.
Jellied Bloody Mary
Start with a 12-ounce can of tomato juice. Pour one-fourth cup into small bowl; add one envelope unflavored gelatin; let it soften.
In saucepan pour remaining juice; bring to a boil. Add one teaspoon Worcestershire and few (or several) dashes of Tabasco. Stir it, take off the fire and add to gelatin mixture, stirring well. Let cool for few minutes, then add good half cup of Vodka. Mix well. Pour into custard cups or other small molds. Refrigerate overnight. To serve, unmold onto lettuce leaf and garnish with lemon slice.–Yields 6 servings.
THIS IS A MOLDED salad that is definitely in the "he-man" classification.
Molded Corned Beef Salad
6-oz. pkg. lemon gelatin
Two cups boiling water
One cup salad dressing or mayonnaise
Two tbsps. prepared horseradish
Two tbsps. prepared mustard
One-half cup diced celery
One-fourth cup diced green pepper
One-half cup diced onion
Three hard cooked eggs, chopped
12-oz. can corned beef, flaked.
Dissolve gelatin in boiling water; pour into freezer tray and refrigerate until firm around edges. Blend salad dressing, horseradish and mustard with rotary beater or blender.
In large bowl, beat gelatin until fluffy. Fold in remaining ingredients; pour into one and one-half quart ring mold.
JIM SCHLEMMER ran across this recipe when he was in Tucson when the Cleveland Indians were warming up at Spring training.
Tuna Fish Chop Suey
One-fourth cup butter
7-oz. can tuna, scalded and drained
One cup finely chopped onions
Two cups finely chopped celery
One tsp. salt
One and one-half cups hot water
One can bean sprouts or one can mixed vegetables, drained
One-16th tsp. pepper
FLAVORING-THICKENING
Two tbsps. cold water
One tbsp. La Choy sauce
Two tbsps. cornstarch
One tbsp. sugar
Saute onions in butter, without browning, about two minutes. Add salt, pepper, celery and water; cover; cook five minutes.
Add tuna, in small pieces, and drained sprouts or vegetables. Heat thoroughly. Combine and add the flavoring ingredients. Stir lightly; cook one minute. Serve over chow mein noodles or rice.–Yields 4-6 servings.
More Recipes For You To Enjoy: