This recipe was clipped from a newspaper and found in a large collection, date unknown. I've typed it out below along with a scanned copy.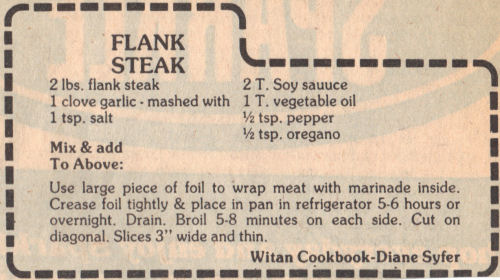 FLANK STEAK
2 lbs. flank steak
1 clove garlic – mashed with 1 tsp. salt
2 T. Soy sauce
1 T. vegetable oil
1/2 tsp. pepper
1/2 tsp. oregano
Mix & add
To Above:
Use large piece of foil to wrap meat with marinade inside. Crease foil tightly & place in pan in refrigerator 5-6 hours or overnight. Drain. Broil 5-8 minutes on each side. Cut on diagonal. Slices 3″ wide and thin.
Witan Cookbook – Diane Syfer
More Recipes For You To Enjoy: