This recipe comes from an undated page torn from a small booklet (?). The other side reads "General Foods Kitchens Grand big savings with lots of valuable coupons inside". No date.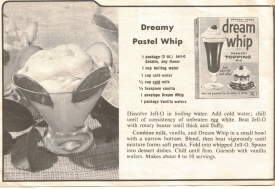 Dreamy Pastel Whip
1 package (3 oz.) Jell-O Gelatin, any flavor
1 cup boiling water
1 cup cold water
1/2 cup cold milk
1/2 teaspoon vanilla
1 envelope Dream Whip
1 package Vanilla wafers
Dissolve Jell-O in boiling water. Add cold water;chill until of consistency of unbeaten egg white. Beat Jell-O with rotary beater until thick and fluffy.
Combine milk, vanilla, and Dream Whip in a small bowl with a narrow bottom. Blend, then beat vigorously until mixture forms soft peaks. Fold into whipped Jell-O. Spoon into dessert dishes. Chill until firm. Garnish with vanilla wafers. Makes about 8 to 10 servings.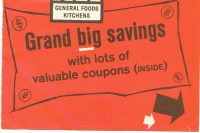 More Recipes For You To Enjoy: