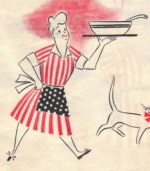 Here is page 14 of the WWII ration cookbook titled "Recipes For Today" that was published by General Foods Corporation in 1943. This was during the second world war when the United States was experiencing food rations and shortages (sugar, meat, etc.) and homemakers were looking for creative ways to feed their families.
You can view all the pages in this little book by visiting this category: Recipes For Today (WWII), just click a page title to view that section of the book. You'll find scans of the pages included below (click pictures to view a larger size) as well as a typed version for easy printing.
DINNER CASSEROLES FROM LEFT-OVERS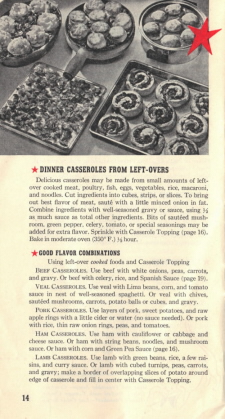 Delicious casseroles may be made from small amounts of left-over cooked meat, poultry, fish, eggs, vegetables, rice, macaroni, and noodles. Cut ingredients into cubes, strips, or slices. To bring out best flavor of meat, sauté with a little minced onion in fat. Combine ingredients with well-seasoned gravy or sauce, using 1/2 as much sauce as total other ingredients. Bits of sautéed mushroom, green pepper, celery, tomato, or special seasonings may be added for extra flavor. Sprinkle with Casserole Topping (page 16). Bake in moderate oven (350° F.) 1/2 hour.
GOOD FLAVOR COMBINATIONS
Using left-over cooked foods and Casserole Topping
BEEF CASSEROLES. Use beef with white onions, peas, carrots, and gravy. Or beef with celery, rice, and Spanish Sauce (page 19).
VEAL CASSEROLES. Use veal with Lima beans, corn, and tomato sauce in nest of well-seasoned spaghetti. Or veal with chives, sautéed mushrooms, carrots, potato balls or cubes, and gravy.
PORK CASSEROLES. Use layers of pork, sweet potatoes, and raw apple rings with a little cider or water (no sauce needed). Or pork with rice, thin raw onion rings, peas, and tomatoes.
HAM CASSEROLES. Use ham with cauliflower or cabbage and cheese sauce. Or ham with string beans, noodles, and mushroom sauce. Or ham with corn and Green Pea Sauce (page 16).
LAMB CASSEROLES. Use lamb with green beans, rice, a few raisins, and curry sauce. Or lamb with cubed turnips, peas, carrots, and gravy; make a border of overlapping slices of potato around edge of casserole and fill in center with Casserole Topping.
More Recipes For You To Enjoy: