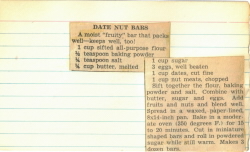 Here's an old newspaper clipping glued on an index card for date nut bars. Date unknown.
DATE NUT BARS
A moist "fruity" bar that packs well–keeps well, too!
1 cup sifted all-purpose flour
1/2 teaspoon baking powder
1/4 teaspoon salt
1/4 cup butter, melted
1 cup sugar
3 eggs, well beaten
1 cup dates, cut fine
1 cup nut meats, chopped
Sift together the flour, baking powder and salt. Combine with butter, sugar and eggs. Add fruits and nuts and blend well. Spread in a waxed, paper-lined 8×14-inch pan. Bake in a moderate oven (350° F.) for 15 to 20 minutes. Cut in miniature shaped bars and roll in powdered sugar while still warm. Makes 3 dozen bars.
More Recipes For You To Enjoy: