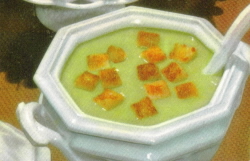 This is from a set of vintage recipe cards dated 1961 and distributed by Lestoil's Convenience Products, Holyoke, Mass. The card measures 2 1/4″ x 3 1/2″ (approx).
Curried Pea Soup
Series 1
No. 17
Set of 42
1 pkg. (4 oz.) dehydrated green pea soup
3 cups water
1 bouillon cube
1/4 tsp. nutmeg
1/2 to 1 tsp. curry powder
Dash garlic powder
1/2 cup heavy cream
Mix soup with water in a saucepan. Add bouillon cube, nutmeg, curry powder, garlic powder and heavy cream. Stir to blend. Bring to a boil, then cover and simmer 3 minutes. Serve with toasted seasoned bread cubes. Makes 4 servings.
LESTOIL'S Convenience Products
Holyoke, Mass.
c. 1961 Tested Recipe Institute, Inc., 500 Fifth Ave., New York 36
More Recipes For You To Enjoy: